Managed Detection and Response Solutions
With cybersecurity delivered as a service, we make your cybersecurity our responsibility.
Managed Detection and Response provides superior cybersecurity outcomes.
Sophos Managed Detection and Response is a fully managed service delivered by experts who detect and respond to cyberattacks targeting your computers, servers, networks, cloud workloads, email accounts, and more.
We detect more cyberthreats than security products can identify on their own.
Our tools automatically block 99.98% of threats, which enables our analysts to focus on hunting the most sophisticated attackers that can only be detected and stopped by a highly trained human.
We investigate and take action on your behalf to stop threats from disrupting your business.
Our analysts detect, investigate, and respond to threats in minutes, whether you need full-scale incident response or help making accurate decisions.
We identify the root cause of threats to prevent future incidents.
We proactively take action and provide recommendations that reduce risk to your business. Fewer incidents means less disruption for your IT and security teams, your employees, and your customers.
More organizations trust Sophos for MDR than
any other vendor.
Our experts detect and neutralize threats faster than other vendors.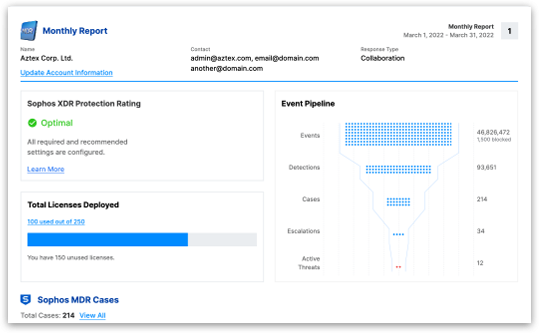 Stop Threats in Their Tracks
Our team quickly learns the who, what, when, and how of an attack, and can respond to threats in minutes.
Sophos Central is your single dashboard for real-time alerts, reporting, and management. Weekly and monthly reports provide insights into security investigations, cyberthreats, and your security posture.
Sophos MDR Is Compatible with the Cybersecurity Tools You Already Have
We can provide the technology you need from our award-winning portfolio, or our analysts can leverage your existing cybersecurity technologies to detect and respond to threats. Sophos Managed Detection and Response is compatible with a growing list of security telemetry providers such as Amazon Web Services (AWS), Check Point, CrowdStrike, Darktrace, Fortinet, Google, Microsoft, Okta, Palo Alto Networks, Rapid7, and many others. Telemetry is automatically consolidated, correlated, and prioritized with insights from the Sophos Adaptive Cybersecurity Ecosystem (ACE) and Sophos X-Ops threat intelligence unit.